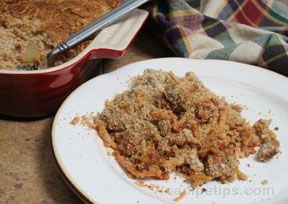 Directions
Place the unpeeled potato in a small saucepan, cover it with water, and add about a half teaspoon of salt. Cook over medium heat until the potato is just tender when poked with a fork. Do not overcook. Remove from the water and set aside.
In a medium skillet, pour in the olive oil and allow it to heat up. Add the onion and garlic to the heated oil and sauté until onions are slightly browned. Add the leftover lamb towards the end of the cooking time so it cooks with the onion and garlic for a short time.
Add the beef broth and sherry to the skillet; cook until they reduce by half.
Add the tomato puree, chopped tomatoes, herbs, and paprika; simmer until sauce thickens.
While mixture is cooking cut the potato into thin slices. The potato can be left unpeeled or if it can be peeled if desired.
In a medium bowl, combine the bread crumbs and cheese; stir to mix evenly.
Pour the lamb mixture from the skillet into the baking dish and stir in the parsley.
Layer the potato slices over the top and then sprinkle the bread crumbs and cheese over the top.
Bake at 350° F for 45 minutes. Remove it from the oven and serve immediately.
Prep Time: 1 hour
Cook Time: 1.5 hours
Container: 9 x 9 baking dish
Servings: 6


Ingredients
-
1 large potato
-
1/2 teaspoon salt
-
2 tablespoons olive oil
-
1 onion - small, chopped
-
2 cloves garlic - finely chopped
-
1 1/2 cups leftover lamb, cubed
-
1/2 cup beef broth
-
2 tablespoons sherry
-
2 tablespoons tomato paste
-
1 can chopped tomatoes - 14.5 oz.
-
pinch dried herbs (such as thyme, rosemary, oregano, or a mixture of several)
-
1 teaspoon paprika
-
1 cup bread crumbs
-
1 cup Cheddar cheese
-
1 tablespoon chopped fresh parsley