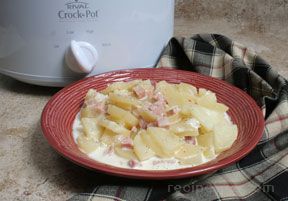 Directions
Peel and slice enough potatoes to fill the slow cooker three quarters full.
Cube leftover ham and add to the potatoes. Add as much ham as you feel is adequate.
Add the chopped onion.
Add 1/2 carton of Half & Half and then pour in enough cream to just cover the potatoes.
Add salt and pepper to taste.
Cook on high for one hour and then reduce the heat to low. Cook them for 5 to 6 hours on low or until the potatoes are tender.
Place the cover on the slow cooker so that it is a little crooked to allow the steam to escape as the potatoes are cooking. This will keep the cream from curdling.
Note: This recipe is easily adjusted according to the amount you want to make. Determine what you have for leftovers or how many people you are feeding and choose the size of slow cooker and amount of potatoes accordingly. Adjust the amount of cream so that it covers the amount of potatoes you are using.
Prep Time: 1 hour
Cook Time: 6 or more hours
Container: Slow cooker


Ingredients
-
potatoes - peeled and sliced
-
leftover ham - cubed
-
1 onion - adjust to quantity of potatoes
-
1/2 pint half & half
-
cream
-
salt and pepper - to taste