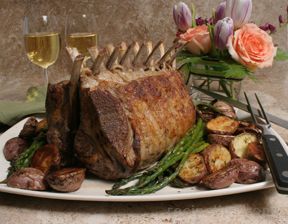 Directions
Prepare your racks of lamb by "frenching" the bones approximately 2 inches from the end. Many times the bones have already been frenched when they are purchased. If you do not want to french them yourself, be sure to request that it is done for you when you order the meat.
To make a guard of honor, take the two frenched racks of lamb, put them together with the bones facing each other, and stagger the bones so that they cross each other.
Tie the racks together using kitchen string; tie them on each end and in a couple of location through the middle.
Rub the surface of the guard of honor with a light coating of vegetable oil.
Combine all the seasonings together and then rub the mixture into the surface of the racks of lamb.
Place the lamb in the roasting pan. It is best to use a roasting rack if you have one for the lamb to set on but if you don't, you can roast it without one.
Place the guard of honor in an oven that has been preheated to 425° F. Roast for 15 minutes and then turn the heat down to 325° F. and cook for 15 to 18 minutes per pound.
Begin testing for doneness with an instant read thermometer 20 minutes before the end of the minimum cooking time to make sure the lamb does not get overcooked. The reading should be approximately 140° F, for medium-rare lamb, when it is ready to be removed from the oven.
Remove the lamb from the oven and tent with foil.Allow it to rest for 15 minutes. During this time the temperature will rise another 5 to 10 degrees, bringing it up to a safe temperature of 145°F.
The roast is then ready to carve and serve. Remove the kitchen strings and carve off two ribs per serving.
Prep Time: 1 hour
Cook Time: 1.5 hours
Container: Roasting pan and rack
Servings: 8


Ingredients
-
2 rack of lamb - 2 racks with 7 to 8 bones each
-
vegetable oil - enough to lightly coat the surface of the racks
-
2 teaspoons kosher salt
-
1 teaspoon garlic powder
-
1/2 teaspoon onion powder
-
1/2 teaspoon pepper
-
kitchen string