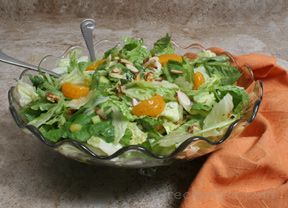 Directions
Add the two tablespoons of sugar to a small saucepan and shake the pan to get the sugar to cover the bottom evenly.
Cook the sugar over low heat just until melted, approximately 4 to 5 minutes. Do not stir the sugar as it cooks. Watch carefully because the sugar will burn quickly. When just about all the sugar has melted, lift the pan off the heat and allow the sugar to finish melting.
As soon as the sugar has melted pour the sliced almonds into the saucepan. Stir them quickly to coat with the melted sugar. The sugar will harden quickly.
Once the almonds are coated turn them out onto a piece of waxed paper and break the clumps of almonds into pieces. Be careful because the melted sugar is hot.
Break the two types of lettuce into bite size pieces and place in a large bowl.
Add the oranges, celery, and almonds to the lettuce and toss together.
Combine the oil, vinegar, two tablespoons of sugar, parsley, salt, and pepper in a separate bowl. Whisk until well mixed.
Just before you are ready to serve, pour half the dressing over the salad ingredients and toss them to mix together. Add about half of the remaining dressing and toss the salad again.
If you feel there is enough dressing on the salad at that point, do not add the remaining dressing. If not, add more dressing until the salad is coated as desired.
Pour the salad into a large serving bowl and serve immediately.
Prep Time: 1 hour
Container: Large bowl
Servings: 8


Ingredients
-
2 tablespoons sugar
-
1/2 cup sliced almonds
-
4 cups romaine lettuce - torn pieces
-
4 cups iceberg lettuce - torn pieces
-
1 can mandarin oranges - 11 oz. can
-
1/2 cup diced celery
-
1/4 cup vegetable oil
-
2 tablespoons cider vinegar
-
2 tablespoons sugar
-
2 teaspoons minced parsley
-
1/4 teaspoon salt
-
1/4 teaspoon pepper