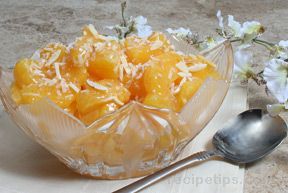 Directions
Toast the almonds and coconut and set aside until needed.
Peel and section the oranges; set them aside while you prepare the other ingredients.
Pour the sugar and marmalade in a saucepan; cook over medium heat until the sugar is dissolved.
Remove this mixture from the heat and add the white grape juice and Sprite. Stir until well blended.
Add the cornstarch and salt; stir until the cornstarch is mixed into the marmalade mixture.
Put the mixture back over medium heat and bring it to a full boil over. Boil for one minute or until glaze has thickened. Then remove the glaze from the heat.
Allow the glaze to cool to room temperature and pour the mixture over the orange segments. Stir until all pieces are evenly coated.
Add half of the almonds and half of the coconut to the orange mixture; stir to distribute evenly.
Cover the salad with plastic or place in an airtight container; chill in the refrigerator overnight.
Just before serving, sprinkle the top with the remaining almonds and coconut.
Prep Time: 1 hour
Cook Time: 30 minutes
Servings: 8


Ingredients
-
8 large oranges
-
1/2 cup sugar
-
1 cup orange marmalade
-
1 cup white grape juice
-
1/2 cup Sprite (or any other lemon-lime soda)
-
2 tablespoons cornstarch
-
1 pinch salt
-
4 tablespoons slivered almonds - toasted
-
4 tablespoons coconut - toasted