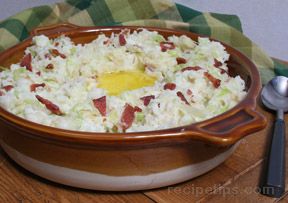 Directions
Cut cabbage into shredded pieces and set aside.
Chopped the onion into small pieces and set aside with the cabbage to be used later.
Peel the potatoes and cut into small pieces for boiling; place in a saucepan, cover with water (add salt if desired,) and boil for 15 minutes or until tender.
While potatoes are boiling, fry the bacon in a deep sided skillet. When bacon is nicely browned, remove it from the skillet and place on a plate lined with paper towels.
Leave the bacon drippings in the pan. Remove the skillet from the heat and set aside.
When potatoes are done, drain well and to place in a bowl for mashing.
Begin beating the potatoes with an electric mixer on low just until they are all broken up. Add the milk and beat on medium speed until the potatoes are nice and fluffy.
Salt and pepper the potatoes to taste. Cover to keep them warm and set aside.
Put the skillet with the bacon drippings back on the burner and heat up. Add the chopped onions and shredded cabbage to the drippings and sauté until they are soft and start to look translucent. The onions and cabbage will have just started to brown on some of the edges.
While the cabbage and onions cook, crumble the bacon into small pieces.
When the cabbage is done, add the mashed potatoes and crumbled bacon; fold in together until evenly mixed.
Place in a large serving bowl, make a well in the center of the Colcannon and fill it with the melted butter.
Serve immediately while it is hot.
Prep Time: 45 minutes
Cook Time: 45 minutes
Container: Saucepan and deep sided skillet
Servings: 10


Ingredients
-
1/2 small head of cabbage
-
1 medium onion
-
2 1/2 pounds potatoes
-
4 slices bacon
-
1/2 cup milk
-
salt and pepper to taste
-
1/4 cup butter - melted