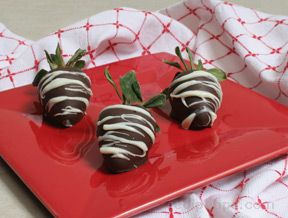 Directions
Place the chocolate chips and the shortening in a glass bowl that is large enough to sit on top of a saucepan without the bowl touching the bottom.
Add 1 to 2 inches of water to the saucepan and bring to a full boil over medium-high heat. When the water is at a full boil, turn the heat off but leave the pan on the burner.
Place the glass bowl on top of the saucepan. Be sure no water splashes into the bowl with the chocolate. The water can cause the chocolate to seize as it is melting.
As the chocolate begins to melt, stir it and the shortening together until the chips are all melted and the mixture is smooth.
Once the chocolate is all melted pick up a strawberry by its green stem and dip it in. Twirl it in the chocolate until the strawberry is 2/3 to 3/4 covered.
Lay the dipped strawberry out on wax paper. Repeat with all the strawberries.
Allow the strawberries to cool at room temperature. Once cooled, they can be placed in the refrigerator to set the chocolate.
Melt the white chocolate chips in the same manner as the chocolate chips. After they have melted, use a fork and drizzle the white chocolate over the chocolate covered strawberries.
Place the chocolate covered strawberries in a single layer in an airtight container. Store in the refrigerator.
Prep Time: 15 minutes
Cook Time: 30 minutes
Container: Medium saucepan and glass bowl
Servings: 24
Serving Size: 1


Ingredients
-
2 cups semi-sweet chocolate chips
-
2 tablespoons shortening
-
1 pound strawberries