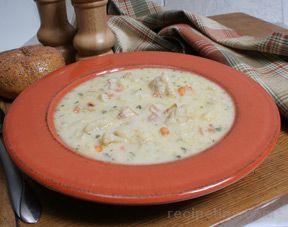 Directions
Place 1/2 stick of butter into a large stock pot and add in the bacon and onion.
Cook over medium heat for 10 minutes or until the bacon is crisp and the onion is translucent.
Add in the carrots and celery and continue to cook for another 10 minutes.
Add in the chopped cauliflower and parsley. Cover and cook for 15 minutes.
Add in the chicken stock and bring to a boil. Reduce heat, cover and simmer.
In a large skillet, melt 1/2 stick of butter. Add to that the flour, whisk together until a roux forms. Add to that the milk, whisk together until all is incorporated and allow to cook over medium low heat until it begins to thicken.
Add to the milk mixture the heavy cream and stir to combine.
Add the milk mixture to the soup pot. Season with salt and pepper to taste and allow to heat through.
Serve warm.
Prep Time: 15 minutes
Cook Time: 1 hour
Container: large stock pot
Servings: 8


Ingredients
-
1/2 cup butter
-
1/2 onion - diced
-
6 slices bacon - diced
-
2 carrots - peeled and diced
-
2 stalks celery - diced
-
2 cauliflower heads - rough chopped
-
2 quarts chicken stock or broth
-
2 tablespoons parsley - dried, can also use fresh
-
4 tablespoons flour
-
2 cups milk
-
1 cup heavy whipping cream
-
salt and pepper - to taste