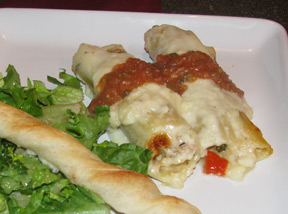 Directions
Preheat oven to 400 degrees. Place tomatillos, tomatoes, onion, jalapeno and garlic on a baking sheet. Toss with oil and season with salt and pepper. Roast until tomatillos turn golden around the edges and are soft, about 35-40 minutes. Remove from oven and blend ingredients together until smooth. Season with salt and pepper, to taste.
Boil manicotti in salted water for 8 minutes. Drain and set pasta aside.
In a large skillet, heat oil over medium heat. Saute onion until translucent, about 3 minutes. Add mushrooms and saute 5 more minutes. Add garlic and saute 1 minute more. Remove pan from heat and mix in chicken, tomatoes, cilantro and sour cream. Set aside.
For cheese sauce: In a medium saucepan, melt butter over medium-high heat. Add flour and cook 2 minutes. Whisk in milk and bring to a simmer. Add cheese and nutmeg and stir until melted. Season sauce with salt and pepper, to taste.
Assembly: Reduce oven temperature to 350 degrees. In a 9 by 13-inch baking dish, place a thin layer of cheese sauce. Stuff manicotti with chicken mixture and place in baking dish. Pour remaining cheese sauce over the top. Bake 30 minutes until cheese is bubbling. Drizzle tomatillo sauce over the top before serving.
Prep Time: 25 minutes
Cook Time: 1 hour


Ingredients
-
1/2 pound tomatillos, quartered
-
1 red onion, quartered
-
1 jalapeno, halved
-
1 pint grape tomatoes
-
2 cloves garlic
-
2 tablespoons olive oil
-
8 ounces manicotti shells
-
2 tablespoons olive oil
-
1 onion, chopped
-
1 cup mushrooms, sliced
-
2 cloves garlic, minced
-
2 cups chicken, shredded
-
2 tomatoes, seeded and diced
-
3 tablespoons cilantro, chopped
-
1/2 cup sour cream
-
3 tablespoons butter
-
3 tablespoons flour
-
2 cups milk
-
1/4 teaspoon nutmeg, grated
-
2 cups fontina cheese, grated