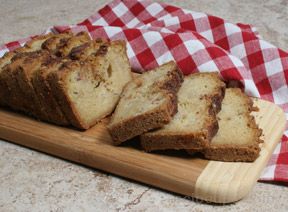 Directions
Preheat the oven to 350°F. Grease the bottom and sides of two loaf pans.
Combine the shortening, sugar, sour milk, and eggs together in a mixing bowl and beat with an electric mixer until well blended.
Add the vanilla, sifted flour, soda, salt and orange juice. Mix until evenly combined.
Add the chopped apples and stir into the batter.
Pour the batter into the greased loaf pans.
Combine 4 tsp. of sugar and 2 tsp. of cinnamon and sprinkle over the top of the loaves.
Place the pans into the preheated oven and bake for 45 minutes to 1 hour. Check doneness after 45 minutes by inserting a toothpick in the center of the loaf. If it comes out clean, the bread is done. If not, bake another 5 minutes and check again.
When the bread is done remove it from the oven and allow it to cool for 10 minutes while still in the pan. Then remove from the pan and allow it to cool completely on a cooling rack.
Prep Time: 45 minutes
Cook Time: 1 hour
Container: 2 Loaf pans
Servings: 15
Serving Size: 1 slice


Ingredients
-
1 cup shortening
-
2 cups sugar
-
3 tablespoons buttermilk or sour milk (or add a few drops of vinegar or lemon juice to regular milk)
-
4 eggs
-
2 teaspoons vanilla
-
4 cups sifted flour
-
2 teaspoons baking soda
-
1/2 teaspoon salt
-
2 teaspoons orange juice or orange extract
-
2 cups chopped apples
-
4 teaspoons sugar
-
2 teaspoons cinnamon