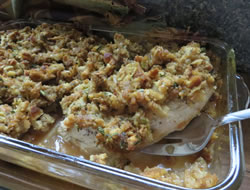 Directions
Preheat oven to 350 degrees.
Prepare both boxes of stuffing mix according to package directions.
In a 9 x 13 baking dish, spread the 2 cans of pie filling onto the bottom. Place pork chops on top of filling; season with salt and pepper.
Spread prepared stuffing on top of pork chops.
Cover pan with foil. Bake for 30 minutes. Remove foil and bake for 10-15 minutes more.
Prep Time: 15 minutes
Cook Time: 45 minutes
Container: 9 x 13 inch baking dish
Servings: 6


Ingredients
-
2 packages stuffing mix
-
2 cans apple pie filling
-
6 pork chops, boneless
-
salt & pepper to taste