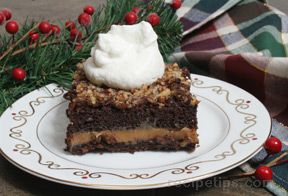 Directions
Preheat the oven to 350° F. Grease the bottom of a 9 x 13 cake pan.
Open caramels and place them in a heavy saucepan. Set aside.
Mix the cake up according to the directions on the package.
Pour 2 cups of batter into the bottom of the greased cake pan; spread out evenly.
Bake this layer in the preheated oven for 15 minutes.
While this layer is baking, add the margarine and sweetened condensed milk to the saucepan containing the caramels.
Melt this mixture over medium low heat. Cook until caramels are all melted and mixture is smooth; stir constantly so bottom does not burn.
When the bottom cake layer is done, remove from the oven and pour the caramel mixture over the top of it and spread out evenly.
Pour the remaining cake batter over the caramel layer and carefully spread it out evenly.
Sprinkle the top with chopped pecans and return to the oven and bake for an additional 30 minutes.
Remove from the oven and allow to cool before serving. The cake can be served with a whipped cream topping or a scoop of ice cream but it is also very delicious all on its own.
Prep Time: 45 minutes
Cook Time: 45 minutes
Container: 9 x 13 baking pan
Servings: 20


Ingredients
-
1 package chocolate fudge cake mix
-
1 package caramels - 14 oz.
-
1/2 cup butter
-
1 can sweetened condensed milk -14 oz.
-
1 cup chopped pecans