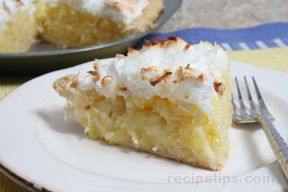 Directions
Prepare the pie crust and bake it. Set the crust aside.
Separate the egg yolks from the whites and set the whites aside for making meringue.
In a medium saucepan, combine the sugar, cornstarch, and salt. Stir to mix evenly.
Add the pineapple, egg yolks, and 2 tbsp. of Malibu rum.
Cook over medium heat until mixture comes to a boil or has thickened. Stir constantly so that it does not burn on the bottom. Turn down heat if necessary.
When thickened properly remove the mixture from the heat and stir in the remaining 2 tbsp. of Malibu rum.
Add 1 1/4 cups of coconut and stir until evenly mixed. Pour into the pre-baked pie crust.
Preheat the oven to 350°F so that the pie can be place in the oven for 5 minutes before adding the meringue.
In a small mixing bowl, add the egg whites, sugar, cream of tarter, and salt. Mix until sugar is dissolved, then beat until soft peaks are formed.
Place the pie in the oven so it can start heating before finishing the meringue.
Start adding the powdered sugar to the meringue 1 tbsp. at a time, beating after each addition. Once all the sugar is added continue beating until stiff peaks are formed.
After the pie has been in the oven for 5 minutes remove it and spread the meringue on top. Be sure that the meringue is spread out to the crust so that it seals the filling in all around the pie.
Place the pie on the bottom rack of a 400° F preheated oven for approximately 5 minutes or until the meringue is lightly browned.
Remove the pie and allow it to cool completely before serving so that it has a chance to set up properly.
Prep Time: 45 minutes
Cook Time: 45 minutes
Container: 9
Servings: 6
Serving Size: 1 piece


Ingredients
-
1 pie crust - baked
-
3 egg yolks
-
3/4 cup sugar
-
1/4 cup cornstarch
-
pinch salt
-
2 cans crushed pineapple - 8 oz cans
-
4 tablespoons Malibu rum, divided
-
1 1/4 cups coconut
-
3 egg whites
-
1/4 teaspoon cream of tarter
-
pinch salt
-
6 tablespoons powdered sugar