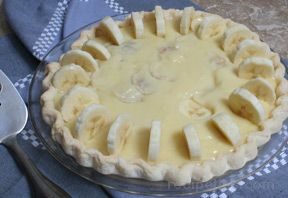 Directions
In a saucepan, combine the sugar, flour and salt. Gradually add in the milk while stirring.
Cook over medium heat while stirring constantly until it is thick and bubbly.
Cook and stir for two minutes and then remove from the heat.
Mix a small amount of the warm mixture in with the egg yolks to temper them. Then add the yolks into the saucepan with the rest of the mixture.
Return to the heat and cook for an additional two minutes while stirring.
Remove from the heat and add in the vanilla and butter. Stir to combine.
Slice bananas and place into a cooled baked pastry shell. Top with the pudding mixutre and bake in a 350° F oven for 12 minutes. Allow to cool slightly and the refrigerate for 3 hours before serving.
Prep Time: 20 minutes
Cook Time: 10 minutes
Container: 9 inch pie plate
Servings: 8


Ingredients
-
3/4 cup sugar
-
1/3 cup flour
-
1/4 teaspoon salt
-
2 cups milk
-
3 egg yolks - beaten
-
2 tablespoons butter
-
1 1/4 teaspoons vanilla
-
1 pie crust - 9 inch and baked
-
3 bananas - sliced