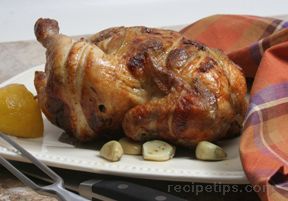 Directions
In a small bowl, grate the zest from 1 lemon and mix it with 2 tsp. of salt and the pepper. Add the lemon zest mixture to the butter and stir with a fork until the all the ingredients are evenly mixed. Set aside.

Salt the cavity of the chicken with the remaining 1 tsp. of salt. Cut the lemons into quarters and place them in the cavity of the chicken. Peel the cloves of garlic and place 5 of them in the cavity of the chicken along with the lemons.

Place the chicken on the rotisserie spit. Tie the legs tightly together so that the ingredients inside will not drop out when the chicken is rotating on the rotisserie.

Apply the lemon and butter mixture to the chicken. Rub approximately 1/2 of the butter under the skin of the chicken, spreading it out evenly. After rubbing the butter under the skin, place the remaining 5 garlic cloves sporadically under the skin. If the outside of the chicken is moist, dry it off with a paper towel and then rub the remaining lemon butter mixture on the chicken. Now finish tying the chicken around the fatty parts of the legs and tying the wings to the body.

Cook according to manufacturers directions, around 90-120 minutes or until the internal temperature of the thickest part of the thigh reaches 175°F. Remove from rotisserie and remove the items in the cavity. Tent the chicken with foil and allow it to rest for 15 to 20 minutes before carving.
Prep Time: 10 minutes
Cook Time: 2 hours
Servings: 4


Ingredients
-
1 chicken (3 1/2 - 4 pounds)
-
2 lemons
-
3 teaspoons salt
-
1 teaspoon pepper divided
-
2 tablespoons butter softened
-
10 cloves garlic