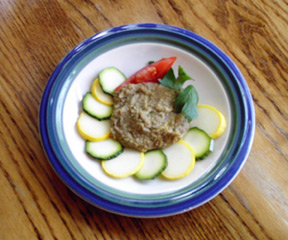 Directions
Cook lentils thoroughly in simmering water, 20-30 minutes. In a food processor, combine garlic, parsley, olives, salt*, pepper* and lemon juice. Add cooked lentils and mix. Add olive oil** and continue mixing until smooth consistence is reached. Goes great with vegetables or pita bread.

*salt and pepper to taste
**adjust olive oil according to desired texture, more oil=smoother texture.
Ingredients
-
1/2 cup green lentils
-
1 1/2 cups water
-
2 cloves fresh garlic
-
1 bunch fresh parsley
-
1/2 each juiced lemon
-
each kalamata olives, pitted
-
1 teaspoon sea salt
-
1 teaspoon fresh ground pepper
-
tablespoon olive oil