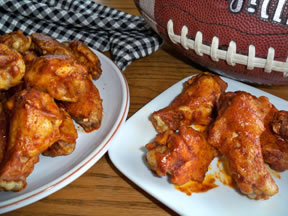 Directions
Preheat your oven to 375 degrees. Place the split wings on a baking sheet and bake in oven for 30 minutes.
Combine the garlic, butter, both sauces, chili powder, cayenne pepper, salt, and Worcestershire sauce together in a large mixing bowl.
Remove the wings from the oven and place them in the bowl with the sauce. Use a tongs to do this.
Mix the wings so that they are coated in the sauce and then place them back on the baking sheet and reduce heat to 250 degees. Bake the wings another 20 minutes. Enjoy!
Ingredients
-
20 chicken wings - remove the tips and split
-
2 cloves garlic - chopped
-
1/2 cup melted butter
-
1/2 cup red pepper sauce
-
2 tablespoons chili powder
-
1 teaspoon cayenne pepper
-
1/2 cup tomato sauce
-
1 teaspoon salt
-
2 teaspoons Worcestershire sauce