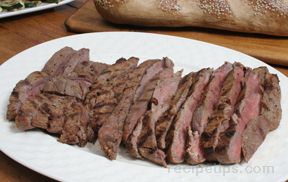 Directions
In a small mixing bowl, combine the garlic, grill seasoning, paprika, hot sauce, Worcestershire sauce, white wine vinegar and olive oil.
Place meat into a large resealable bag and pour the marinade over the top.
Place bag into a shallow pan to catch any drippings that might leak from the bag.
Place in the refrigerator for three hours to marinate.
Remove from the refrigerator and allow to stand at room temperature for 1/2 hour.
Preheat grill to high. Grill steaks for 6-8 minutes on the first side, then flip the steaks and continue to grill for another 4-6 minutes or until the flank steak reaches your desired doneness.
Remove from the grill and allow to rest for 5 minutes so the juices redistribute.
Cut the flank steak against the grain for maximum tenderness.
Prep Time: 10 minutes
Cook Time: 15 minutes
Container: plastic bag, small mixing bowl, grill
Servings: 6


Ingredients
-
3 pounds flank steak
-
3 cloves garlic - minced
-
1 teaspoon paprika
-
1 tablespoon grill seasoning - ground spice mix found in the supermarket spice aisle; use your favorite brand
-
2 teaspoons hot sauce
-
2 tablespoons white wine vinegar
-
2 tablespoons Worcestershire sauce
-
1/4 cup olive oil