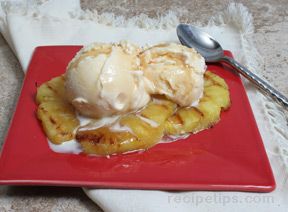 Directions
Clean the fresh pineapple by first trimming off the top and bottom of the pineapple; then cut the pineapple crosswise to create 1/2-inch thick slices. Trim the rind off of each ring, and cut out the tough core.
Set the rings aside, and preheat the grill to medium-high.
While the grill is preheating, combine the butter, brown sugar, and lemon juice in a small saucepan. Heat until the mixture is evenly mixed and the sugar is completely dissolved.
Brush the pineapple rings on one side with the glaze and place them on the grill, glazed side down; then brush the tops of the rings with the glaze.
Close the cover and grill for approximately 3 minutes or until the pineapple has distinct grill marks.
Turn the rings over and brush with the glaze again and then grill for another 3 minutes or until there are grill marks on the other side. Remove from the grill.
Place one or two pineapple rings on a plate with one or two scoops of ice cream in the center; then drizzle with maples syrup. Serve immediately.
Prep Time: 45 minutes
Cook Time: 10 minutes
Servings: 10


Ingredients
-
1 fresh pineapple
-
3 tablespoons butter
-
1 tablespoon brown sugar (you can substitute with maple syrup or honey)
-
1 teaspoon lemon juice
-
vanilla ice cream
-
maple syrup