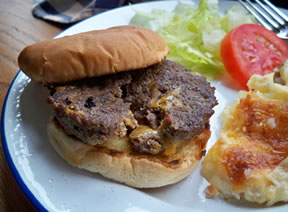 Directions
Put ground beef in a bowl. Add all the seasonings, and Worcestershire sauce; mix into the meat with your hands.
Make 2 thin patties per hamburger. Add 3 tablespoons of cheddar cheese on top of one of the patties and top with another pattie. Finish the other patties in the same manner.
Press patties around the outer edges to seal the two patties together.
Grill on medium heat to desired doneness.
Prep Time: 20 minutes
Cook Time: 10 minutes
Servings: 4


Ingredients
-
1 pound ground beef
-
1 teaspoon steak seasoning
-
1 teaspoon onion powder
-
1/2 teaspoon celery salt
-
1/2 teaspoon salt
-
1/4 teaspoon pepper
-
3 tablespoons Worcestershire sauce
-
3/4 cup shredded cheddar cheese