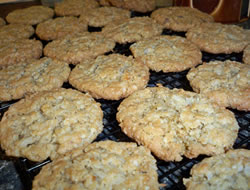 Directions
Preheat the oven to 350 degrees F.
Cream the shortening, sugar, brown sugar, eggs, and vanilla together in a large mixing bowl.
Combine the flour, soda, and salt in a separate bowl. Add to the creamed mixture and beat until well mixed.
Stir in the oatmeal and coconut until evenly distributed.
Drop by rounded tablespoon onto an ungreased cookie sheet.
Place in the preheated oven and bake for 10 - 12 minutes.
Remove from the oven and place on a cool rack. Allow the cookies to cool completely before storing.
Prep Time: 30 minutes
Cook Time: 10 minutes


Ingredients
-
1 cup brown sugar
-
1 cup sugar
-
1 cup shortening
-
2 eggs, beaten
-
1 teaspoon vanilla
-
1 1/2 cups flour
-
1 teaspoon soda
-
1 teaspoon salt
-
3 cups quick oatmeal
-
2 1/2 cups coconut