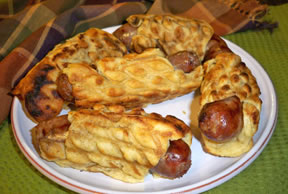 Directions
Grill bratwurst sausages until the grill-marks are slightly visible, but not prominent.
Remove brats from the grill and allow them to cool just slightly. Roll lightly on a paper towel to remove some of the grease from the surface of the brats.
Wrap each brat in a triangle of refrigerated crescent-roll dough.
Return the wrapped brats to the grill and turn frequently (every 1 or 2 minutes) until the dough is golden brown.
Note: If you wrap the brats immediately after removing from the grill, the high heat and grease on the brats make it harder to wrap in the crescent rolls.
Prep Time: 30 minutes
Cook Time: 10 minutes


Ingredients
-
bratwurst
-
1 package refrigerated cresecent-roll dough (use the large size crescent rolls)