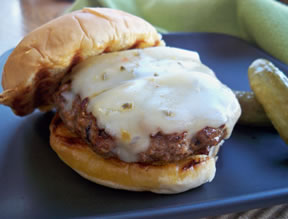 Directions
Mix ground beef, pineapple juice, and salsa together. Make 6 - 8 burgers as desired.
Fry or grill the burger; throw on the cheese during the last one or two minutes so that it melts on the burger.
Put the burger in a bun and enjoy!
Note: If desired, you can butter each side of the hamburger bun and then toast it in the fry pan or on the grill. The toasted bun makes this burger even better.
Prep Time: 30 minutes
Cook Time: 10 minutes


Ingredients
-
2 pounds ground beef
-
1/4 cup pineapple juice
-
2 scoops salsa (your favorite)
-
1 slice pepperjack cheese per burger
-
1 hamburger bun per burger