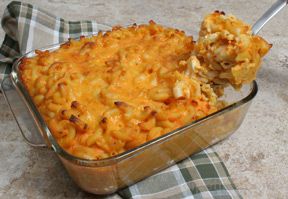 Directions
Preheat oven to 350° F.
Combine the sweet potoates, stock and milk in a medium saucepan and bring to a boil over medium-high heat.
Reduce heat to medium and simmer until the sweet potatoes are tender, approximately 15 minutes.
Remove from the heat and mash them in the pan with the milk, pepper and salt.
Bring a large pot of water to a boil. Add in the chicken flavored seasoning and noodles. Cook until al dente.
Drain and pour into a large bowl. Add in the mashed sweet potoates, cheddar cheese and cream cheese.
Lightly coat the baking pan with non-stick cooking spray. Pour the noodle mixture into the pan.
Cover with aluminum foil and bake for 20 minutes, then uncover the dish and continue to bake for 30-40 minutes longer.
Serve warm.
Prep Time: 20 minutes
Cook Time: 1 hour
Container: deep dish 8 inch square baking dish or 2 quart baking dish
Servings: 6


Ingredients
-
1 pound sweet potatoes - peeled and cut into quarters
-
1 cup chicken broth
-
1 1/2 cups skim milk
-
1 teaspoon kosher salt
-
ground black pepper - to taste
-
16 ounces macaroni
-
1 teaspoon chicken flavored seasoning - or salt
-
4 ounces cream cheese - 1/3 less fat
-
1 1/2 cups Cheddar cheese - shredded