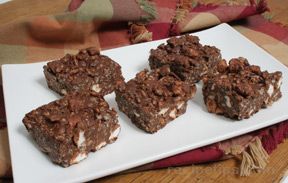 Directions
Combine the butter and chips in a saucepan and place on the stove over low heat. Stir until the chips are melted.
Stir in the peanut butter and mix well, remove from heat.
In a large mixing bowl, stir together the cereal and marshmallows. Pour the melted chip mixture over the cereal and mix all together until completely combined.
Press the mixture into the bottom of a 9x13 pan.
Chill for approximately 30 minutes. Cut into 2 inch bars. Store in the refrigerator.
Prep Time: 5 minutes
Cook Time: 0 minutes
Container: mixing bowl, saucepan, 9x13 pan
Servings: 24


Ingredients
-
1/2 cup butter
-
2 cups chocolate chips
-
1 cup butterscotch chips
-
1 cup peanut butter - creamy or chunky
-
4 cups rice crispies cereal
-
3 cups miniature marshmallows