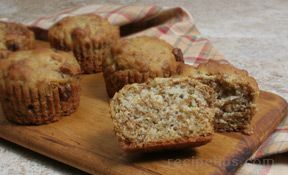 Directions
In a large bowl, combine the cereal, flour, sugar, baking soda, salt, lemon zest and nuts.
In another large bowl, combine the buttermilk, oil and beaten egg. Stir until thoroughly combined.
Slowly add the buttermilk mixture into the dry ingredients, mixing by hand until combined.
This batter can be stored in the refrigerator in a tightly covered container for up to 4 weeks. Makes approximately 12 cups of batter.
Preheat the oven to 400° F. Line the muffin tins with paper muffin liners and place approximately 1/4 cup of batter in each muffin cup.
Bake for approximately 17 minutes.
Remove from the muffin tins to cool on a wire rack.
Prep Time: 15 minutes
Cook Time: 15 minutes
Container: 2 large mixing bowls, muffin tins
Servings: 48


Ingredients
-
20 ounces bran cereal with raisins
-
5 cups flour
-
2 cups sugar
-
5 teaspoons baking soda
-
2 teaspoons salt
-
4 eggs - beaten
-
1 cup vegetable oil
-
1 quart buttermilk
-
1 cup nuts - any variety, chopped
-
1 lemon - zested