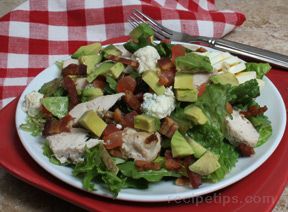 Directions
Cover each dinner plate with greens.
Garnish each plate with one hard boiled egg, 1 slice of crumbled bacon, one half of an avocado, one half of a chicken breast, diced tomato and one ounce of blue cheese crumbles.
Top with your favorite dressing.
Note: A tip to make this a very easy meal is to purchase the hard boiled eggs, pre-cooked bacon, blue cheese crumbles and pre-cooked chicken. Just assemble and enjoy!
Prep Time: 10 minutes
Cook Time: 0 minutes
Container: 2 serving plates
Servings: 2


Ingredients
-
2 hard boiled eggs - peeled and sliced
-
2 slices bacon - cooked and crumbled
-
2 tomatoes - small and diced
-
1 avocado - pitted, peeled and diced
-
8 ounces chicken breasts - grilled and sliced
-
5 ounces mixed greens
-
2 ounces blue cheese - crumbles
-
2 ounces your favorite dressing