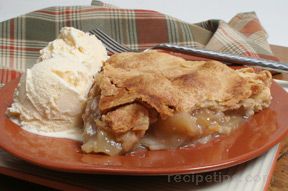 Directions
Preheat oven to 400° F.
Peel, core and thinly slice apples. Place in a large bowl. Drizzle lemon juice over apples and toss to coat.
In a small bowl, combine sugar, flour, cinnamon, nutmeg and lemon zest. Stir until combined and pour over sliced apples. Stir to coat.
Roll out crust to fit, just over the edges of pie plate.
Place apple mixture on crust. Press apples firmly into crust.
Cut butter into 4 pieces and place on top of apples.
Roll out second crust so it will cover apples.
Crimp the two crusts together. Cut about 4 slits in top of crust.
Place foil around outside edges of crust to prevent over-browning.
Sprinkle top of crust lightly with cinnamon and sugar if desired.
Bake 50-60 minutes.
Prep Time: 25 minutes
Cook Time: 1 hour
Container: 10-inch pie plate
Servings: 8
Serving Size: 1 piece


Ingredients
-
5 pounds apples - use a combination of baking apples for more flavor
-
15 ounces refrigerated pie crust (2 crusts)
-
2 tablespoons lemon juice - freshly squeezed
-
3/4 cup sugar, granulated
-
1 1/2 teaspoons ground cinnamon
-
1/4 teaspoon nutmeg
-
3 tablespoons flour
-
1 tablespoon butter
-
1 teaspoon lemon zest - optional
-
cinnamon and sugar - optional