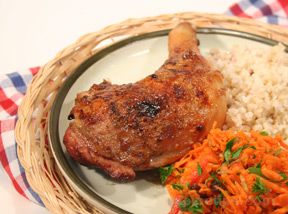 Directions
Heat grill to medium.
While the grill heats, make the gastrique (It can also be made ahead and refrigerated): combine vinegar, sugar, water, 1/4 teaspoon salt and rhubarb in a non-reactive saucepan and simmer until thick and jam-like, 10 - 15 minutes. Set aside.
Brush chicken pieces with oil, and salt and pepper generously. Put chicken on grill, skin side down, for about 5 - 6 minutes. Be prepared for flare-ups as the fat cooks out of the skin; move meat around as needed to keep it from getting burned. Turn to cook the other side for about 5 minutes, then continue grilling, turning as needed to prevent burning, until the chicken is done (no red shows when you make a small deep cut, or 165 on an instant-read thermometer).
Brush generously with gastrique, and cook for another minute or two on each side, watching closely to prevent burning.
Serve hot, passing remaining gastrique to add as desired.
Container: grill, saucepan
Servings: 4


Ingredients
-
1/2 cup vinegar
-
1/2 cup water
-
1 cup sugar
-
3 cups chopped rhubarb
-
4 chicken leg-and-thigh pieces (separate, if preferred)
-
2 tablespoons oil, or as needed
-
salt and pepper