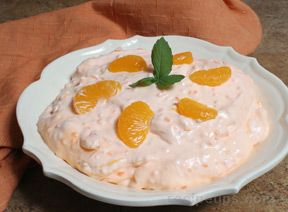 Directions
In a large saucepan, combine the jello, tapioca pudding and water.
Bring to a boil for 2 minutes.
Allow to cool in pan for 30 minutes and then tranfer to the refrigerator until set and chilled.
Fold in mandarin oranges and non dairy whipped topping.
Cover and store in the refrigerator until ready to serve.
Container: Large saucepan, serving bowl
Servings: 12


Ingredients
-
6 ounces orange Jello®
-
2 packages tapioca pudding - 3 oz packages
-
3 3/4 cups water
-
11 ounces mandarin oranges - drained and diced
-
12 ounces non-dairy whipped topping