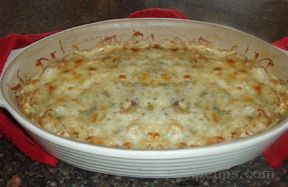 Directions
Spray a large skillet with non stick cooking spray.
Add the cabbage, carrots and onions to the skillet.
Sautee the vegetables until softened, approximately 10 minutes.
Pour the vegetables into a 2 quart casserole dish.
In a small mixing bowl, combine the eggs, milk, seasoning salt, parsely and swiss cheese.
Stir to combine and then pour it over the vegetables.
Salt and pepper to taste.
Sprinkle the top with paremsean cheese and place in a preheated 350° F oven uncovered for 35 minutes or until golden brown and bubbly.
Prep Time: 15 minutes
Cook Time: 45 minutes
Container: skillet, 2 quart casserole dish, small mixing bowl
Servings: 8


Ingredients
-
4 cups cabbage - chopped
-
1 cup carrot - grated
-
1/2 cup red onions - diced
-
2 eggs
-
1 cup milk
-
6 tablespoons Swiss cheese - shredded
-
1/2 teaspoon seasoning salt
-
2 tablespoons parsley - minced
-
salt and pepper - to taste
-
1/2 cup parmesan cheese - shredded