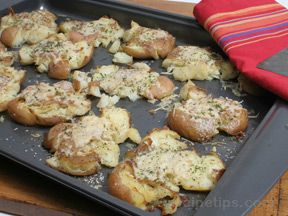 Directions
In a large saucepan, boil potatoes until tender. Drain and allow to cool slightly.
Preheat oven to 400°F.
Spray a cookie sheet with non stick cooking spray and lay the potatoes out evenly on it.
With a potato masher or the bottom of a glass, gently press down on each potato to smash it.
Drizzle each liberally with olive oil, salt, pepper and rosemary.
Place in the oven for 10-15 minutes or until the edges just start to brown.
Remove from oven and sprinkle on the cheese and parsley.
Place back in the oven for approximately 5 minutes or until golden and bubbly.
Prep Time: 30 minutes
Cook Time: 25 minutes
Container: saucepan, cookie sheet
Servings: 6


Ingredients
-
12 baby red potatoes
-
1/4 cup olive oil - more or less as needed
-
kosher salt - to taste
-
black pepper - to taste
-
2 tablespoons fresh rosemary - chopped
-
1/2 cup parmigiano-reggiano cheese - shredded
-
2 tablespoons fresh parsley - chopped