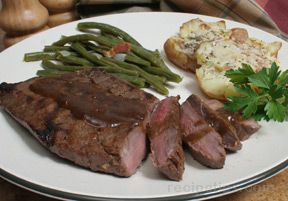 Directions
Whisk the oil, garlic, vinegar, soy sauce, honey, and pepper together in a small mixing bowl.
Place sirloin steaks in a large resealable plastic bag.
Pour the marinade into the bag, seal shut, and rub the marinade around over the steaks.
Place the bag with the steaks inside into a casserole pan to catch any leaks and place everything into the refrigerator for 1 - 1 1/2 hours.
Remove the pan from the refrigerator and allow to come to room temperature.
Meanwhile, heat the grill to medium heat and rub the grates with cooking oil.
Place steaks on the grill and cook for approximately 6 minutes; then flip steaks with a tongs and cook for another 5-6 minutes or until the steaks reach your desired doneness.
While the steaks are grilling, pour the marinade into a saucepan and bring to a boil; then reduce the heat and simmer until it thickens. It makes a perfect sauce for the steaks.
Remove the steaks from the grill and allow to rest for five minutes before serving.
Cook Time: 10 minutes
Container: small bowl, resealable plastic bag, grill
Servings: 4


Ingredients
-
3 pounds sirloin steak
-
1/3 cup olive oil
-
2 cloves garlic - minced
-
2 tablespoons white wine vinegar
-
1/3 cup soy sauce
-
1/4 cup honey
-
1 teaspoon black pepper