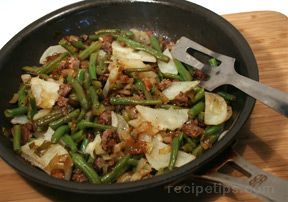 Directions
Heat oil in skillet. When hot, crumble in the ground beef. Salt and pepper lightly and cook without stirring until meat browns a bit.
While meat cooks, chop onion (and garlic, if using). Add to skillet and stir in.
Peel or scrub potatoes, cut in half the long way. Put potatoes cut side down and slice thinly (or grate coarsely). Prepare beans, if using fresh. If frozen or canned, just add to skillet along with potatoes. Mix Worcestershire sauce with 1/2 cup water, stir into skillet ingredients, and cover. Reduce heat to medium-low and cook until potatoes and beans are tender, about 15 - 20 minutes. Taste for seasoning and serve hot.
Prep Time: 10 minutes
Cook Time: 20 minutes
Container: large skillet with lid
Servings: 4
Serving Size: 2 cups


Ingredients
-
1 pound lean ground beef
-
1 tablespoon oil
-
1 large onion
-
2 cloves garlic (optional)
-
1 pound potatoes
-
1 pound green beans, fresh, frozen or canned
-
1 tablespoon Worcestershire sauce
-
salt and pepper