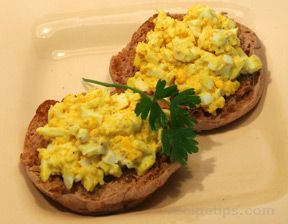 Directions
In a saucepan, cover eggs with water and bring to a boil. Turn off heat, cover pan and let sit for 10 minutes. Run cold water over the eggs to cool them, then peel.
While eggs cook, chop onion very finely. Mix with mayonaise and mustard in a bowl large enough to hold the eggs when chopped.
Chop the peeled eggs and stir into the onion mixture. Add salt and pepper to taste. Refrigerate to chill, or serve at once at room temperature (do not let egg mixture stand at room temperature).
When ready to serve, toast split English muffins and heap egg mixture on each half to serve as open-faced sandwiches.
Prep Time: 20 minutes
Cook Time: 10 minutes
Container: saucepan
Servings: 4


Ingredients
-
8 eggs
-
3 tablespoons mayonaise
-
1 tablespoon prepared mustard, preferably Dijon
-
1 small onion
-
salt and pepper
-
4 English muffins, or use crusty bread