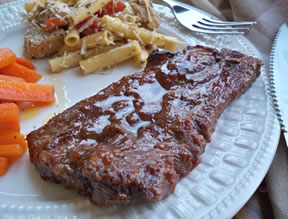 Directions
Fire up grill and let pre-heat for 5-10 minutes.
In a dish, combine garlic powder and BBQ sauce. Mix thoroughly. Using a meat brush, rub mixture on all sides of steaks.
Cook meat for 6 minutes before flipping. Apply new coat of sauce during each flip.
Remove steak after desired doneness is achieved, generally 4-5 flips for well done.
Prep Time: 5 minutes
Cook Time: 15 minutes
Serving Size: 1


Ingredients
-
4 top sirloin steaks
-
1 tablespoon garlic powder
-
6 ounces BBQ sauce