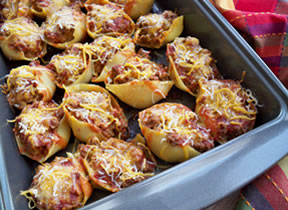 Directions
Cook shells; rinse in cold water and set aside.
Cook ground beef until no longer pink.
Add 1/2 taco sauce, cream cheese, chili powder, and 3/4 cup Mexican cheese.
Stuff shells with mixture and place in a greased 9 x 13 baking pan.
Drizzle remaining half taco sauce on top.
Bake at 350° for 35 minutes. Uncover, spread 3/4 of remaining cheese over top and then bake for 10 more minutes.
Sprinkle last bits of cheese over final dish. Serve immediately.
Prep Time: 30 minutes
Cook Time: 45 minutes


Ingredients
-
18 pasta shells - jumbo
-
1 1/2 pounds ground beef
-
8 ounces taco sauce
-
3 ounces cream cheese
-
2 teaspoons chili powder
-
1 cup Mexican cheese