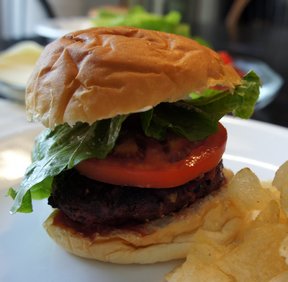 Directions
Combine ground sirloin, onions, pepper, Teriyaki sauce and garlic in mixing bowl. Mix well with your hands. Divide into 6 sections. Form a small round ball with your hands until tight. Then flatten with both hands to form patty.

Grill 6-8 minutes per side.

Serve on seeded Kaiser rolls with Romaine lettuce, tomato, raw slice Spanish onion, mayonnaise and ketchup. Salt and pepper to taste.
Prep Time: 15 minutes
Cook Time: 15 minutes
Servings: 6


Ingredients
-
1 1/2 pounds ground sirloin
-
1 yellow onion, diced
-
1 tablespoon green or red pepper, diced
-
2 tablespoons Kikkoman low sodium teriyaki sauce and marinade
-
1 teaspoon garlic, minced
-
6 seeded Kaiser rolls
-
6 pieces Romaine lettuce
-
1 tomato, sliced
-
1 yellow Spanish onion, peeled and sliced thin
-
4 tablespoons mayonnaise
-
6 tablespoons ketchup
-
freshly ground sea salt
-
freshly ground assorted peppercorns