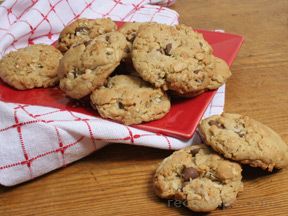 Directions
Preheat oven to 375° F.
Cream shortening and sugars together.
Add eggs one at a time until each is incorporated.
Add vanilla and water and beat until light and fluffy.
Sift together the flour, baking soda, baking powder and salt. Slowly add this to the batter until combined.
Mix in the coconut, oatmeal and rice crispies. You may need to use a wooden spoon for this part instead of a mixer because the dough becomes somewhat stiff.
Mix in the chocolate chips.
Using a medium (approximatley 2 teaspoon) cookie scoop, drop batter onto prepared cookie sheets and bake in a preheated oven for approximately 10 minutes or until the edges are nicely browned.
Remove to a cooling rack. Store in an air tight container.
Prep Time: 15 minutes
Cook Time: 10 minutes
Container: mixing bowl, cookie sheets


Ingredients
-
1 cup shortening - at room temperature
-
1 cup sugar
-
1 cup brown sugar - packed
-
3 eggs
-
1 teaspoon vanilla
-
2 teaspoons water
-
3 cups flour
-
1 teaspoon baking soda
-
1/2 teaspoon baking powder
-
1/2 teaspoon salt
-
2 cups oatmeal
-
2 cups rice crispies cereal
-
1 cup coconut
-
12 ounces chocolate chips