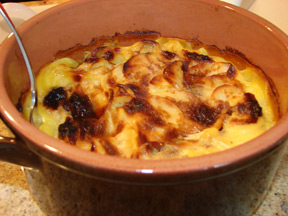 Directions
Spray the inside of a slow cooker with nonstick cooking spray.
Layer half of the potatoes, half of the soup, half of the cheeses, and then half of the milk into the slow cooker. Repeat the layers.
Season with salt and pepper to taste.
Cook on high for approximately 6 hours. You may need to add more milk as it cooks.
Serve hot.
Prep Time: 15 minutes
Cook Time: 6 or more hours
Container: slow cooker
Servings: 4


Ingredients
-
8 potatoes - sliced thin
-
1 can cheddar cheese soup
-
1 cup processed cheddar cheese spread - cubed
-
1 1/2 cups Cheddar cheese - sharp Cheddar, grated
-
12 ounces evaporated milk
-
salt and pepper - to taste