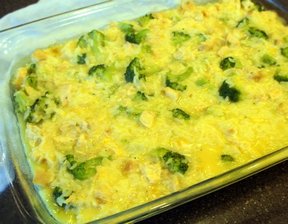 Directions
Preheat oven to 350 degrees F. Spray 9x13 pan with cooking spray.

In a large bowl, combine all ingredients. Pour into prepared dish.

Bake covered for 1 1/2 hours.

SLOW COOKER VARIATION: Combine all ingredients except broccoli in slow cooker. One hour before end of cooking time, stir in broccoli. Cook on high for total of 3-4 hours or on low for total of 6-7 hours. If casserole is too runny as end of cooking time nears, remove lid from slow cooker for 15 minutes while continuing to cook on high.
Prep Time: 10 minutes
Cook Time: 1 1/2 hours
Servings: 8


Ingredients
-
1 cup long grain rice, uncooked
-
3 cups water
-
2 teaspoons chicken bouillon granules
-
1 can cream of chicken soup (10 3/4 ounces can)
-
2 cups chicken, cooked, diced
-
1/4 teaspoon garlic powder
-
1 teaspoon onion salt
-
1 cup shredded cheddar cheese
-
1 package frozen broccoli, thawed (16 ounce bag)