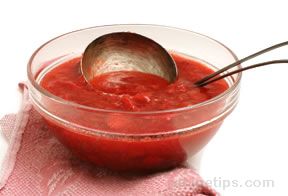 Directions
In a non-reactive saucepan, combine rhubarb, sugar, salt and about 1/2 cup of the strawberries. Cook (medium heat) until the rhubarb is tender and falling apart, about 10 minutes.
Stir in the vanilla and cool to room temperature.
Stir in remaining strawberries.
Serve room temperature or chilled. Delicious eaten plain, as sauce, or served over yogurt, ice cream or pound cake.
Container: non-reactive saucepan
Servings: 4
Serving Size: cup


Ingredients
-
2 cups chopped rhubarb
-
2 cups sliced strawberries, divided
-
1/2 cup sugar, or to taste
-
1 pinch salt
-
1/2 teaspoon vanilla extract