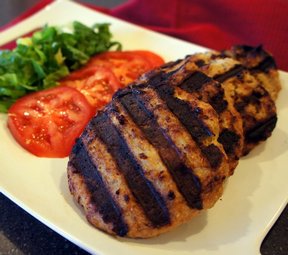 Directions
Combine turkey, 1 cup of French fried onions, egg, bread crumbs, teriyaki sauce, vegetable oil, cayenne pepper and ginger in a large bowl. Shape into 4 patties.

Place patties on a pre-heated grill and cook over medium heat for about 10 minutes or until meat is no longer pink in the center, flipping once.

Serve on lightly toasted buns, topped with lettuce, tomato and remaining French fried onions. Burgers should be juicy, so no condiments are necessary, but you can dress it up to suit your tastes.
Prep Time: 5 minutes
Cook Time: 10 minutes
Servings: 4
Serving Size: 1 piece


Ingredients
-
1 pound ground turkey
-
1 1/2 cups french fried onions, divided
-
1 egg
-
1/4 cup bread crumbs
-
3 tablespoons teriyaki sauce
-
1 tablespoon vegetable oil
-
1 teaspoon cayenne pepper
-
1/2 teaspoon ground ginger
-
4 hamburger buns
-
4 pieces lettuce
-
1 tomato, sliced