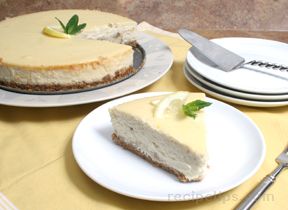 Directions
Preheat oven to 375°.
Wrap outside of springform pan with foil so batter won't leak out.
In small bowl, mix graham cracker crumbs with butter.
Press mixture firmly into bottom of springform pan.
Bake crust for 10 minutes.
Cool on wire rack for at least 20 minutes.
Reset oven to 325°.
In small bowl, zest the 2 lemons. Cut both in half and juice into bowl with zest.
In another small bowl, combine sugar and cornstarch.
In large mixer bowl, beat cream cheese with ricotta until smooth, about 3 minutes, on medium speed.
Add in sugar mixture.
Reduce speed to low, add eggs, half-n-half, vanilla, and lemon zest and juice. Blend, scraping down sides of bowl occasionally. It will be a thin mixture.
Pour batter over cooled crust.
Place in 325° oven for 1 hour, making sure center is set. (It will not brown on top).
Shut off oven and keep cheesecake in oven for 1 hour.
Remove from oven and cool on wire rack in pan for 2 hours.
Cover and chill for 1 hour. Can be chilled overnight.
When ready to serve, remove foil and side of pan. Place on serving platter. Garnish with thin lemon slices.
Prep Time: 25 minutes
Cook Time: 1 hour
Container: 9
Servings: 12


Ingredients
-
1 cup graham cracker crumbs (1 whole sleeve) - crushed
-
4 tablespoons unsalted butter - softened
-
2 lemons - zested, juiced
-
1 1/4 cups sugar
-
1/4 cup cornstarch
-
16 ounces cream cheese - regular
-
15 ounces ricotta cheese - regular or low-fat
-
4 eggs - large size
-
2 cups half-n-half
-
2 teaspoons vanilla
-
1 lemon - for zesting