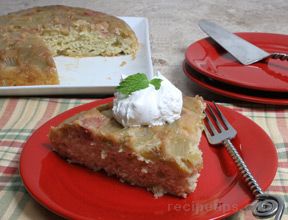 Directions
Preheat oven to 350°.
In skillet, melt 3 tablespoons butter over medium heat. Spread around to coat pan.
Sprinkle brown sugar, lemon zest, and juice over melted butter and continue to cook 1-2 more minutes or until sugar starts to melt, stirring continuously.
Spread out in pan. Remove from heat.
Add rhubarb pieces right away to cover over bottom of skillet.
In small bowl, combine flour, baking powder, and salt.
In medium bowl with electric mixer, beat egg whites until foamy. Increase speed to high and add in 1/4 cup sugar. Beat until whites stand in stiff peaks.
In large mixer bowl, on medium speed, beat remaining 1/2 cup butter (1 stick) and 3/4 cup sugar. Beat until light and fluffy (about 3-4 minutes). Scrape down sides of bowl once in awhile.
Beat in egg yolks, 1 at a time and vanilla. Blend well.
Reduce speed to low and slowly add flour mixture alternately with milk. Blend well.
Remove mixing bowl from mixer. With spatula, fold in beaten egg whites just until combined in mixture.
With spatula, spread mixture evenly over pieces of rhubarb in skillet.
Place skillet in oven and bake for 40 minutes or until nicely browned on top and center is set.
Remove from oven, cool 5 minutes.
Place serving platter upside down on skillet, turn over to invert cake onto plate. Serve warm with whipped cream if desired.
Prep Time: 30 minutes
Cook Time: 45 minutes
Container: 12
Servings: 12


Ingredients
-
3 tablespoons unsalted butter
-
1/2 cup brown sugar - packed
-
1/2 lemon - zested
-
2 teaspoons lemon juice
-
2 cups rhubarb, trimmed and cut into 1
-
1 1/2 cups flour
-
2 teaspoons baking powder
-
1/2 teaspoon salt
-
1/2 cup unsalted butter (1 stick)
-
3 eggs - separate whites from yolks
-
1 cup sugar - divided
-
1 teaspoon vanilla extract
-
1/2 cup milk