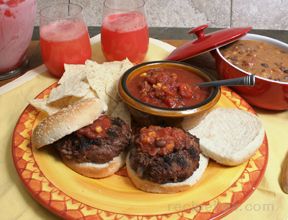 Directions
Preheat grill to medium.
In medium bowl, mix beef, onion and chilies.
Shape into 8 thin patties.
Place 4 patties on baking sheet. On top of patties place 2 small or 1 large slice of cheese. Top with 2nd patty. Pinch around edges to seal.
Place patties on grill. Grill first side about 7 minutes, turn once, grill second side another 5-7 minutes.
Serve on Kaiser rolls with taco sauce.
Serve with taco chips and coleslaw for a great meal.
Prep Time: 15 minutes
Cook Time: 15 minutes
Container: grill, medium bowl, baking sheet
Servings: 4
Serving Size: 1 each


Ingredients
-
1 1/2 pounds ground beef
-
2 tablespoons onion - finely chopped
-
2 tablespoons canned diced green chilies - drained
-
8 slices pepper Jack cheese
-
4 kaiser rolls, split
-
1/2 cup black bean and corn salsa or your favorite salsa