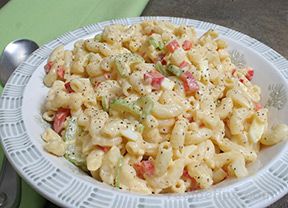 Directions
Bring 4 quarts of water to boiling, add salt to add flavor and reduce stickiness.
Add macaroni to the boiling water, stir. Bring back to a rapid boil. Cook uncovered, stirring occasionally. Cook until desired tenderness, drain well.
Let macaroni cool slightly.
Combine remaining ingredients with cooled macaroni into mixing bowl. Stir until well combined.
Serve immediately or chill until ready to serve.
Prep Time: 10 minutes
Cook Time: 10 minutes
Container: medium saucepan, large mixing bowl
Servings: 8


Ingredients
-
3 cups elbow macaroni
-
1/4 cup distilled white vinegar
-
1/4 cup sugar
-
1 cup mayonnaise
-
2 1/2 teaspoons mustard
-
1 red pepper - finely chopped
-
2 celery stalks - finely sliced
-
3 eggs - hard boiled - diced
-
1 onion - finely chopped
-
pepper to taste