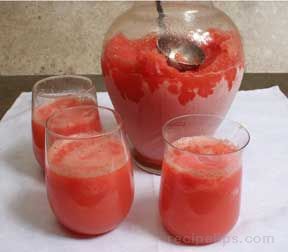 Directions
In small bowl, dissolve gelatin in boiling water.
In freezer container, combine dissolved gelatin with remaining ingredients except carbonated beverage. Cover.
Freeze until slushy consistency, about 8 hours or overnight.
To serve, spoon 1/2 cup mixture into serving glass, then fill with carbonated beverage.
Note: If slush is frozen, let stand at room temperature for at least an hour. Diet or sugar free ingredients are fine in this recipe.
For adult flavor: add vodka or gin if desired.
Prep Time: 10 minutes
Container: punch bowl or large pitcher, small bowl, non-metal freezer container
Servings: 20
Serving Size: 8 ounces


Ingredients
-
3 ounces any red fruit flavored gelatin
-
1 cup boiling water
-
3 cups cold water
-
2 cups cranberry juice cocktail
-
12 ounces frozen lemonade concentrate, thawed
-
12 ounces frozen orange juice concentrate, thawed
-
lemon lime flavored carbonated beverage, chilled