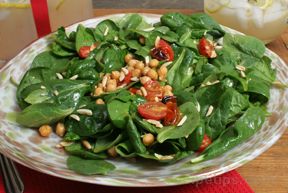 Directions
Preheat broiler.
Line large baking sheet with foil.
Spread cut tomatoes and garbanzo beans on a baking sheet.
Sprinkle with the 1 tablespoon olive oil. Toss to combine and coat. Season with salt and pepper.
Place under broiler, toss occasionally, until tomatoes are slightly charred (15-20 minutes) and garbanzo beans are tanned and slightly crisp.
Meanwhile, place spinach in large serving bowl.
In small bowl, whisk together the olive oil and vinegar. Season with salt and pepper.
Pour over spinach, add hot vegetables and toasted almonds. Toss to combine. (Spinach will wilt slightly).
Note: To toast almonds, place in small dry skillet over medium low heat. Toss occasionally until lightly browned. Remove from heat.
Note: Garbanzo beans are also called chickpeas.
Prep Time: 10 minutes
Cook Time: 20 minutes
Container: large baking sheet, large serving bowl, small mixing bowl
Servings: 4


Ingredients
-
2 ounces almonds - slivered and toasted
-
1 pint grape tomatoes - cut in half
-
1 package fresh spinach - 10-16 oz.
-
14 ounces garbanzo beans - drained and rinsed, garbanzo beans are the same thing as chickpeas
-
1 tablespoon olive oil
-
DRESSING
-
3 tablespoons olive oil
-
2 tablespoons white wine vinegar