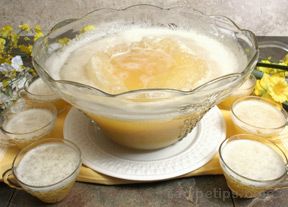 Directions
In large container or bowl, mash bananas and add rest of ingredients, except ginger ale. Mix together.
Place in batches in blender, blend until smooth.
Put in large plastic container with cover.
When all is blended and in container, place in freezer and allow to freeze.
Remove from freezer at least 2 hours before serving. Length of time can depend on the temperature.
Place banana mixture in punch bowl and add ginger ale to fill bowl. Should be very slushy.
Prep Time: 15 minutes
Container: large container, large punch bowl or serving bowl
Servings: 32


Ingredients
-
6 bananas - mashed
-
can orange juice - frozen concentrate
-
can lemonade - frozen concentrate
-
1 cup sugar
-
7 cups water
-
few drops yellow food coloring, optional
-
1 litre ginger ale - chilled